Guided Bicycle Day Tour – Rhein-Moselle-Deutsches Eck-Rhein
A cycling guide will collect you at the arranged meeting point.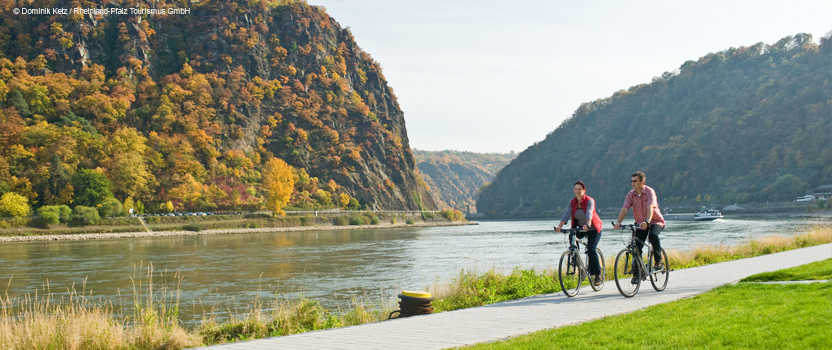 You will cycle to Boppard's main train station where you will take the Hunsrück Railway, the steepest (normal) railway line north of the Alps, to Buchholz. This is where the actual tour begins. You will follow the cycling tracks, slightly downhill and passing the Ehrenburg Castle, into the Moselle valley. It is possible to book a guided tour of the Ehrenburg, if requested. The last 2 kilometres to Brodenbach are on a country road with light traffic, but somewhat adventurous because of the serpentines. Now you have reached the river Moselle. You cycle on, downriver and over a bridge taking you to Löf. Now you are on the left banks of the Moselle and the cycling track takes you shortly into the vineyards. No worries…the path stays flat! You will pass typical Moselle towns, such as Kobern Gondorf and Winningen which will invite you to linger. Now it's not far until you reach Koblenz and "Deutschen Eck" (German Corner). Here, you have completed a little more than half of the tour. After a short guided trip through the town on bicycle, you can stop for lunch at one of the trendy beer gardens in the town centre. The tour continues, following the cycling path upriver, along the Rhine to Rhens. Rhens also has an old town centre which can be visited. From Rhens it is only an hour's cycling to Boppard. The cycle track stays always near to the Rhine and alongside the Bopparder Hamm vineyards. The cycle route can basically be rated as easy.
As a crowning finale, it is possible to take part in a wine-tasting in a wine tavern or, weather permitting, in the vineyards.
The tour takes approx. 8 hours including the breaks.
Price: 170 € for a group up to 25 participants
Length of tour: approx. 65 kilometres
Extra costs where applicable:
wine-tasting: 9,50 € per person (rates as at 2021)
guide tour of castle