By Car:

Using the A 61 motorway, coming from Mainz or Cologne:
Take exit for Boppard/Buchholz then follow the signs to Boppard (8 km to town centre)
Using the A 3 motorway:
At the Dernbacher Dreieck junction, take the A48 and follow signs for Koblenz. At the Koblenzer Kreuz junction, take the A 61 and follow the signs to Mainz till you reach the exit Boppard/Buchholz.
In addition you can reach Boppard by using the B 9 (federal road) coming from Koblenz or Bingen, as well as using the 327 (Hunsrückhöhenstr.). Boppard can also be reached using the B 42 (federal road) on the right banks of the river Rhine and then crossing the Rhine by car ferry at Boppard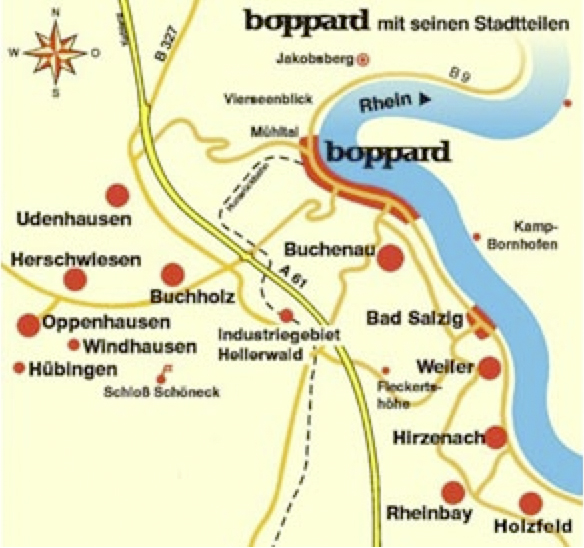 ---
By Train:

The Boppard Main Train Station is connected by the Regional Express Network. You can reach Boppard by rail from Koblenz, Mainz and Frankfurt.
---
By Plane:

You can reach Boppard quite easily by using the Frankfurt/Hahn airport which is situated in the Hunsrück, just 55 km from Boppard. Several airlines fly into Frankfurt/Hahn.
Boppard is also handy for the main airports. Frankfurt airport and Cologne/Bonn airport are both approx. 110 km away.
---
By boat:

The regional boat company also makes a stop in Boppard.
---
Parking (Cars)

Boppard has a parking guidance system which can be found on entering the town.
If you want to discover the town centre and the Rhine promenade, we advise you to follow the signs for the "parking deck 1" or "parking 2".
Coaches should not follow the parking guidance system signs. At the moment there are special parking facilities for coaches in Boppard-Buchenau "Am Eisenberg", at the parking spot of the old public pool. You will reach this place by taking the Simmerner Street direction Emmelshausen, turn to the right at the crossing to Buchenau. After 300 m you find the parking spot to your right.
Due to constructionworks the Remigiusplatz coach parking spot directly on the B 9 is closed.
For short time (30minutes) parking we offer 4 parking spots at the rhinepromenade, near the music pavillon.