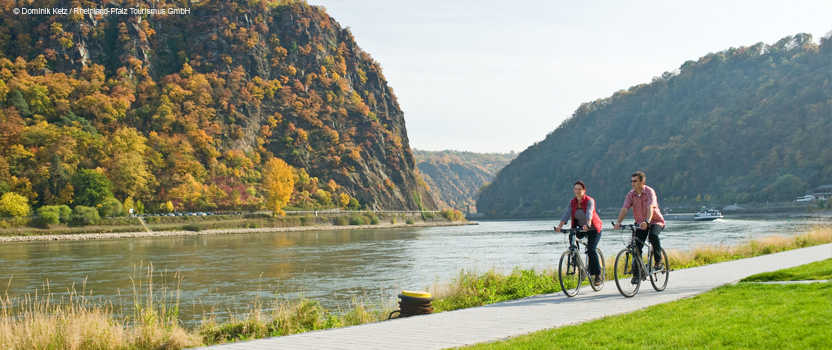 Cycling along the river Rhine
Cycling package
Why not enjoy an action-packed summer holiday?
Make the most of the opportunity to 'ride' and explore one of the most superb and oldest cultural landscapes in all of Europe, the UNESCO World Heritage Site of Oberes Mittelrheintal.
On Day One an action-packed cycle tour awaits, proceeding through the Rheintal, and its abundance of castles, passing the myth-enshrouded Loreley, heading to Bingen/Rüdesheim. Then enjoy a relaxing return trip on a Köln-Düsseldorfer boat.
Stay in one of the 'Bed & Bike' accommodation providers.
On Day Two continue your journey after a hearty breakfast. The Hunsrückbahn takes you up one of the steepest railway routes in Germany to Emmelshausen. From here, proceed via the Schinderhannes Cycle Route and enjoy the lovely scenery of the Hunsrück area. After 10 km the route takes you back to the Rhine again. Upon reaching Oberwesel, head down the Rhine to Boppard.
On Day Three enjoy a leisurely cycle from Boppard via the cycle path to the east of the Rhine heading for Coblenz and on the route visit the best-preserved castle on the Middle Rhine, Marksburg in Braubach. After your visit to Coblenz you can either cycle back to Boppard or relax and take the Mittelrheinbahn train. In the evening sample exquisite wines from Bopparder Hamm.
Inclusive services:
2 nights including breakfast in a 3 or 2-star guesthouse or hotel in the centre of town
Boat trip with Köln-Düsseldorfer boat
ride with the Hunsrück Mountain Scenic Railway
Wine tasting
Journey in the chair-lift to the viewing points on Gedeonseck & Vierseenblick
Free entry to the town museum
Free travel by train & bus in the VRM area
3-star guesthouse or 2-star Superior Hotel in the center:
Double room rate from 130,- € per person / Single room rate on request.
Additional nights on request.
Additional costs for ferry, Marksburg castle visit.
Booking possible from May to September.

For booking or questions please contact:
Tourist Information Boppard, Market Square, DE - 56154 Boppard
Phone 0049 - 6742 3888 / Fax 0049 - 6742 - 81402
eMail tourist@boppard.de